We have lived a natural lifestyle for a long time. But I never could find baby care products that satisfied my very anal label reading mind. As you can tell, I am so in love with Young Living products but I always wished that they would make an exclusive baby line. AND they satisfied that need by coming out with the Seedling line
OMG! I am one happy mama as I now have an option to use toxin free sunscreen, and diaper rash cream & wipes because Young Living has now introduced an oil infused chemical free baby care line that is free of carcinogens and hormone disruptors. All the products are free of chlorine, alcohol, sulfates, parabens, phthalates, mineral oil, animal-derived ingredients, synthetic preservatives, synthetic fragrances, or synthetic dyes. It is vegan and not tested on animals. It can be safely used on newborns as well.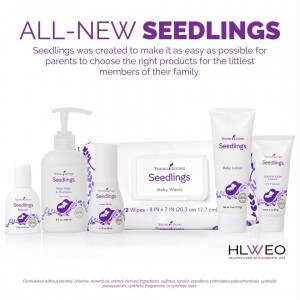 The entire seedling line has been dermatologically tested and hypoallergenic as well.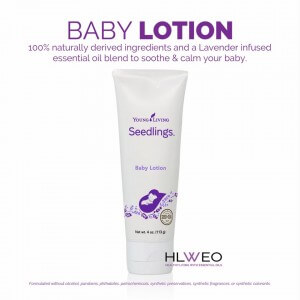 This is fantastic as it is made with Murumuru butter, mango butter, cocoa butter, calendula extract, annatto oil, apple extract, and Lavender essential oil. You can read more about it here. Not only that, it is non greasy – I personally don't like greasy lotions and this is just perfect.
And guess what, it is great for the whole family as it is fantastic for people with sensitive skin.
If you are like me, you probably will want to look up every single ingredient and I am really happy to say that there is nothing in it that I would not put on my own children, so be assured.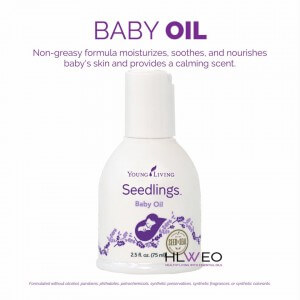 This is fantastic for massages, such an integral part of having a baby. It is already infused with essential oils so you don't have to add more to it. It is great for soothing and nourishing your baby's soft skin.
To read and learn more, click here
And it is non greasy as well. It smells delicious and is devoid of toxic chemicals.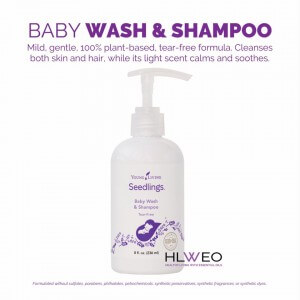 This is specifically for an infant's sensitive hair and skin. It is tear and sulfate free. My baby's hair and skin often gets dry after washing. With this shampoo and wash, it leaves it without over drying. Such a plus.
The smell of the wonderful oils in this is so soothing. Read more here.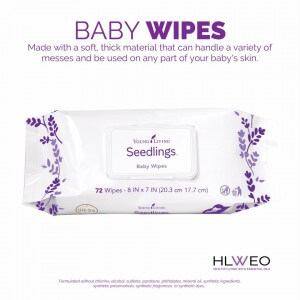 Both my babes were sensitive to even the natural wipes out in the market. So, I was delighted to see these released by Young Living.
I have been using this on my 5 month old and am so happy with the end result. The wipes are soft and thick and easy to use. Not only are they great for baby butt, but also to wipe their face, hands, any messes and hey for you as a parent as well – to clean make up, baby messes on your person.
You can read more about it here.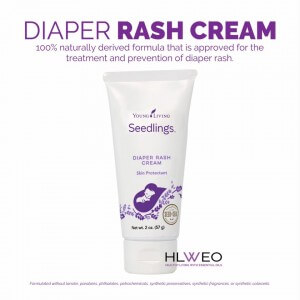 How can we talk wipes without talking about diaper rash.This thick, Lavender-scented cream reduces the duration and severity of diaper rash when applied at the first sign of redness. It soothes on contact, protects your baby's delicate skin, and acts as a physical barrier to wetness.
What I was super happy about was the fact that this has non nano zinc oxide so your baby's tender tush will not absorb it but still get the protection from it. It is so mild that it is safe for your infant and newborn.
As always, if you are Interested in getting started with learning more about essential oils and begin your journey to health and wellness with Young Living… Contact me. I am happy to do a one on one session to walk you through them either in person or via phone or video chat. Or you can come to one of my classes if you are local in the Boston area.
Remember that Young Living is a wellness company committed to giving you a chemical free lifestyle. They carry over 400 oils and oil infused products. So every oil that you are using is a chemical that you are not using.
The best way to get started with Young Living is by getting the Premium Starter Kit which is the only thing on YL website that is 1/2 off.  You will be getting 11 oils + oil samples + NingXia Red samples + Diffuser ( can't enjoy the oils with out the diffuser

) Don't worry – we will walk you through using each of these oils and you WILL be using every single oil in here.
If you are  ready to get started with Young Living and join my team, you can do so from here.
If you still would like to individually purchase the oils or any product, you can do so from here
In either case, we welcome you whole heartedly to our team.