Education and Support:
Knowledge is empowerment and Padma is passionate about educating and empowering people on health, wellness, natural living and demonstrating how easy it is to replace toxic cleaners in the home. Through her classes, she shares simple techniques on how to create a life of FREEDOM, ranging from finding ways to create healthy relationships to creating healthy families, from finding economical means to support a non toxic life to using essential oils to support health and wellness.
Upcoming Classes & Events
A little bit about what my events and classes look like – What it is and what it is not about.

 Simplifying Your Journey to Living a Non Toxic Lifestyle
My brand new membership – Space limited. Cart close on Aug 24th. Only $30 a month
Click here to learn more details of the program.
---
DIY: Make and Take in LIVE – August, 23rd at 8:00 pm
One of the amazing perks to be part of our group is these  types of FUN projects that you can do in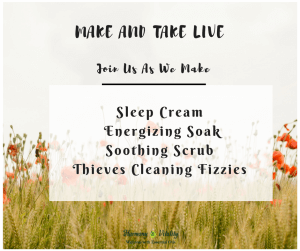 the comfort of your home or join me in person in my home.
This is the event I have been waiting for. We will be doing it LIVE on FB that you can join and participate from your home. If you are not on FB, no worries, I can have zoom available as well.
You are welcome to come to my home and do it with me in person or join me virtually. The LIVE will be on our exclusive group page and not on the events section.
Here is the ingredient list.  So, make sure to get the ingredients ahead of time. I can also share where you can buy them from.
Sleep Cream
Whipped Coconut oil
Lavender.
Cedarwood
Peace and Calming
Energizing Soak
Chamomile tea bags
Powdered milk or Coconut milk powder
Cornstarch
Baking soda
Juniper ( or your favorite essential oil)
Soothing Scrub
Granulated sugar
Dry organic tea bags – "Peppermint, Black Tea"
Jojoba Oil 
Lime Essential Oil or any citrus oil .
Thieves Cleaning Fizzies
Baking soda
Citric acid
Cornstarch
Water
Lemon essential oil or Thieves or Citrus Fresh essential oil blends
V-6 Vegetable Oil Complex
Ice cube tray or candy mold
---
Schedule a class in your home!

It's an easy and a fun way to share essential oils with family and friends!
I have recently helped host some essential oil home parties which have been an absolute hit for both the host as well as the guests. We had a blast asking questions, sharing natural recipes for day to day necessities, and enjoying trying new oils.
Would you like your friends to join you on your journey to wellness using natural solutions such as essential oils? We can cover many topics including how to look and feel better, how to create a clean, chemical-free home and body, how to have more energy and overall better health, and more.
Best of all, we can do this all in the comfort of your home! I often bring healthy treats infused with oils like homemade vegan chocolate, hummus with lemon essential oil, salsa verde with lime essential oil.
I'm now scheduling home classes starting now  so if you are interested please get in touch with me as soon as possible.
Not local?? No worries,  we can do one remotely, thanks to technology. I can do the class and you can gather your friends around and pass the oils around. It is that simple!!!!
If you are a member of my team, this is a great way to have your oils paid for or to make supplemental income. Contact me for details
Here is what some of the hosts have said about hosting….
"Hosting a party was great because I got to learn more and share my own experiences with essential oils! It seems like there are always new ways to use them." –Laura L.
"My home party was great. Padma shared lots of useful information about essential oils which started a wonderful and heartfelt conversation about motherhood and natural healing. It was the perfect way to get everyone together for a fun afternoon while learning from each other." –Amanda T.
If you are looking for an "excuse" to gather your friends, this is a great opportunity! Get in touch with me to find a date for your party. We can talk about what topics or themes you'd like to cover. As a party host, you will receive a gift just for hosting!
---
Here is what they say about Padma's classes
"Padma, you are so amazing. Not only do you run your beautiful family with love and devotion but you are an incredible talented therapist and have now embarked on this beautiful project of helping so many people and families.
You are a  shining 🌟." – Geetha A – Physician
Really liked the meditation on fear, A lot of other feelings pooped in my head as I did it, felt vitalized and joyful after" – BB Michigan
"Padma, I just saw your talk on emotions, loved it!" – Barb
"I really valued the first hand experiences of Padma. She was very welcoming of questions and it was obvious she's passionate about helping others" – Rebecca G. "Massage Therapist and Reiki Master"
"Padma is incredibly kind and generous. She is a wonderful teacher, both patient and encouraging. She has been so supportive of me throughout the process of learning to use essential oils. She has a wealth of knowledge about essential oils and their various uses, from hormonal balancing to supporting the respiratory system. She is always happy to answer any questions that I have and readily shares tips and new ideas. I highly recommend that you take a class with her. You will not regret it. Essential oils have greatly enhanced the quality of my life, and I have Padma to thank for that!" – Amy T.Brookline, MA
---