Having a new baby is exciting, amazing, and wonderful. It is also a huge change! Joy or Bergamot can help you to feel balanced and promote healthy emotional well-being. or try any of the other oils we already talked about for emotional support, There's so many options.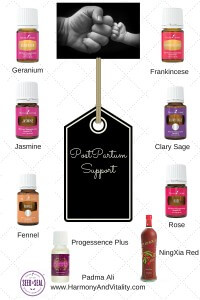 For Any Kind of Healing – Trauma Life, Helichrysum, Frankincense.

After Birth Blend




Geranium  EO – 10 Drops




Jasmine EO – 15 Drops




Use with a carrier oil to help expel the placenta and tone the uterus

PostPartum Support




Frankincense – all over the body or wherever called to applying.




Thyromin Capsule – 2/3 a day to support the endocrine system.




Jasmine or Rose or Ylang Ylang or Clary Sage bath – put a few drops of the oil into ½ cup of Epsom salt – soak in the bath.

Ningxia Red everyday.

Progessence plus!!!Your body makes extra progesterone during pregnancy and than stops when baby is born. this drastic drop in progesterone can trigger emotional upset in some mom's. using Progessence plus daily after delivery helps prevent this drastic change in hormone levels. This is one of my favorite Young Living products. It does have peppermint but not enough to have a effect on most women's milk supply.
Increasing Milk Supply – Fennel under the tongue and rubbing it on the breast.

Many women choose to use oils to anoint their baby shortly after birth to enhance bonding and promote a calm entrance into this world: Lavender, Frankincense, or Gentle Baby. Let's face it transitioning from a dark cozy womb to this great big world can be a bit traumatic. These oils are gentle enough to use on babies, though you should dilute them well. By the way, mom can use these oils on herself too!
Click here to learn more about getting started with Young Living