You are on the home stretch now. Within 3 more months, you will be able to meet your precious baby. But your body is probably being stretched to its capacity, For sure, oils can help at this time.
For those times when you feel like you are blowing up like a balloon, here are some options…
Lemon, Copaiba and Lemongrass taken in a gel capsule or applied directly to the area. This can be a helpful addition to putting your feet up.
Massage blend
Tangerine – 2 Drops
Lemon – 1 Drop
Cypress – 4 Drops
Lavender – 2 Drops


Geranium – 3 Drops

Mixed into 2.5 tblsp of Almond Oil & ½ tsp of Jojoba oil. Massage on the feet and legs in a circular motion towards the heart. Great bonding activity for the parents to be.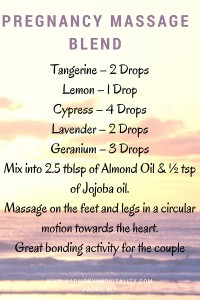 To help with Circulation – Massage legs with Cypress, Helichrysum, tangerine,. An ounce or two of NingXia Red taken everyday can be very supportive during pregnancy.
Perineum Care: Prevention is always better than cure. So, taking proper care of the perineum may prevent tearing or episiotomy
ClaraDerm spray is great for postpartum skin care. ClaraDerm Spray helps reinvigorate skin and relieve irritation. Its gentle spray is a blend of nature's most soothing and calming essential oils in a base of fractionated coconut oil. It is especially comforting for stressed skin before and after childbirth. If you are on a tight budget try LaveDerm spray, a soothing spray made with Lavender essential oil
or
Try a mix of Frankincense and Lavender in a carrier oil.
– A month prior
Claraderm spray – Spray everyday
Diluted Myrrh – Once a day
3 weeks Prior
In addition to Myrrh, you can try a mixture of Geranium (8 Drops) and Lavender (5 Drops) mixed with a carrier oil directly on the perineum
1 week Prior
In addition to the above, try adding Fennel to the mix to further prepare the perenium.
Once Labor Has Started:
Diluted Myrrh massaged on the perineum.
For tearing and trauma:
ClaraDerm sprayed every hour
3 Drops each of Helichrysum and Frankincense and Lavender with a carrier oil directly on the tear.
1:10 Melrose with carrier oil on the perenium.
Breech – To help with turning the baby around, along with chiropractic care and acupuncture, try some of these oils..
Myrrh or Peppermint rubbed directly on to the belly. Even smelling them has been shown to help.
Click here for Post Birth