I did not think I would write another blog today, but feel moved to do so. This blog actually has nothing to do with Essential Oils. This is about the crisis happening in Syria. We went to a candle light vigil hosted by our local Facebook mom's group to honor Syrian Refugee Children. It was moving and touching to see so many families gathering there to support our fellow humans.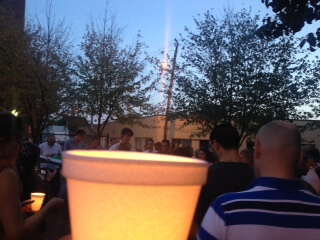 It is times like these that breaks my heart. As a parent, I can't help but imagine how these parents might be feeling. I want to do anything and everything to protect my child and I am sure those parents might have tried doing that too. This time on Earth is calling for all of us to take a stand in doing our part to end violence and poverty, in protecting the innocent – whether they are children, animals, other fellow humans or our environment.
It is easy to get caught in the despair that we are all probably collectively feeling. But it is also important to remember that there are so many people working to make a change, to make a difference right at this very moment that you are reading this. So, please have your voice heard even if it feels tiny. These tiny drops fill the ocean. Please contribute generously to whatever cause you believe in.
If you feel moved by what is happening in Syria, please contribute to Donations can be made to the Karam Foundation, http://www.karamfoundation.org/donate/
Please also sign the petition to resettle Syrian refugees in the US: https://petitions.whitehouse.gov/petition/authorize-and-resettle-syrian-refugees-us
Lastly, I wanted to write about Gratitude. Gratitude is heart opening. It brings in Divine Grace. I am grateful for Julia Prange Wallerce for organizing this event today. I am grateful for have this bubble of safety for my child and my family. I invite you to take a moment and pick one thing that you are grateful for. And if you can, please do send a blessing to all those who have not been so fortunate.
Sending blessings and peace to those whose basic needs are not being met at this time. #Vigil4Syrians