One of the reasons I love Young Living as a company is because of the generous gifts they give to members. Take October for instance, there are so many awesome promotions this month, that I am almost overwhelmed in figuring out how to write about it.
First of all, they have included a new tier of promotion for spending 100PV ( basically equals to the $) which is brand new. Secondly, I love that you get the Thieves household cleaner (a must in every household if you want to go toxin free) and Thieves Fruit and Vege Spray and Dryer balls + more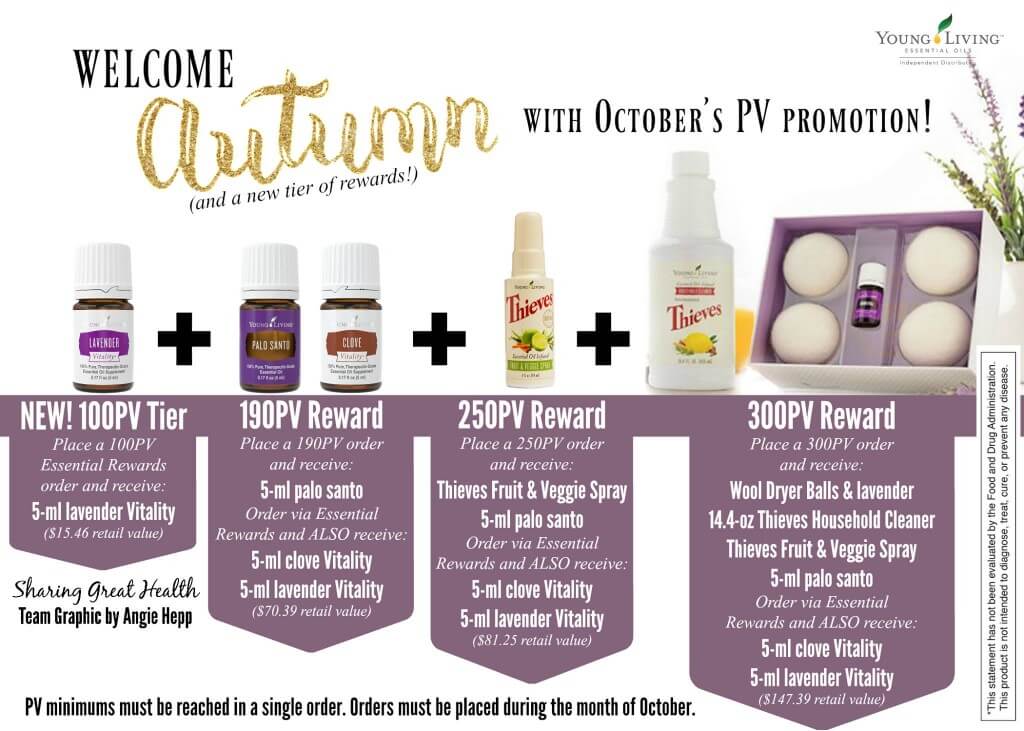 I wanted to describe what each of these products can do.
Lavender Vitality: I love adding Lavender Vitality to my Lemonade or Fruit smoothie. It is a great way to support all body systems. One of my favorite uses is to add to a capsule for seasonal discomfort.
Palo Santo: It is a plant from South America that has been used by the Incas to cleanse and purify negative energies. It is great for spiritual development and calming the nerves. Another wonderful use that I discovered is to add it to my camping spray to have a pest free outdoor experience.
Clove Vitality: Clove is wonderful for supporting the immune system and overall wellness. It is fabulous to support oral health and adding a drop to honey can soothe your throat.
Thieves Fruit and Vegetable Spray: These days, even organic produce has residue in them. Spraying your fruits and vegetables especially when on the go can have you eating them in no time after a quick rinse. It is super effective as it has the combination of Thieves Oils + Lime Oil.
Wool Dryer Balls: Now, why can't we just use the dryer sheets instead. The popular dyer sheets have endocrine disruptors. Read this article by Huffington Post on common household items that contain estrogen mimicking chemicals that disrupt hormones. Use wool dryer balls – add a drop of Lavender or Purification EO to it and see your clothes comes out super clean

Thieves Household Cleaner: You can get the squeaky clean without dangerous chemicals or synthetic ingredients. We have replaced this for all the cleaning supplies we have at home. It is super concentrated so it lasts a long time. I love non toxic cleaning supplies for the same reasons as why I WILL NOT use dyer sheets. With the skin being the largest organ which will absorb everything that it comes in contact with, I am very particular about what I use at home including cleaning supplies.
Having a small child at home, I never have to worry about whether he will get into my cleaning cabinet because even if he does, it is super safe.
For current members of YL, we have another great opportunity to get Free Gifts. If you have never been on Essential Rewards (which is the monthly autoship program allowing you to get points for all the essentials that you might normally buy – you can cash that for most products) you can get Thieves, Lemon and Digize for placing an ER order for just 100PV.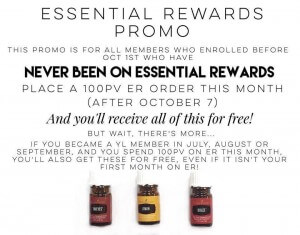 Thieves EO: Can't live without Thieves in our home. We use this every day for boosting our immune system.
Lemon EO: It is super cleansing and is one of the most versatile oils I have known other than Lavender.
Digize EO: It is a blend that is helpful in regulating your  digestive system and for overall wellbeing.
Are you NEW to Young Living? Would you like to get started with Young Living and be a part of our awesome Harmony & Vitality Team. It is super simple – Just go to Young Living and add 1723841 where it asks for Enroller and Sponsor Number once you click on I have the member ID.