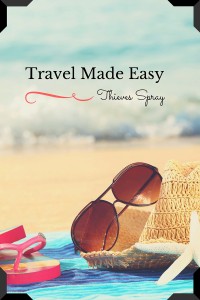 I recently read this article that my friend Amanda sent to me about items that make travel easy with a child / children. Guess what was one of the items recommended in the list. Yes, you guessed right, Thieves Spray ( #17).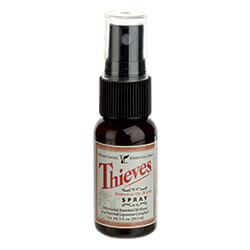 This, my friend is something I never leave the home without. Not only can it be used to sanitize toilet seats ( much needed when your toddler is starting to use public toilets. I am still grossed out if he touches anything in the public toilet setting), door knobs, act as a room freshener, it is wonderful for any surface that needs a good shot of clean. Another plus to this is that it can serve as a mouth freshener if you need one or even soothe your throat ( just spray at the back of your mouth)
My husband who travels a ton has become a big fan on this and insists on carrying one with him at all times. That is the biggest testament one can ever get, given how right brained my husband is.
I carry this with me not only while traveling but also for our regular day to day outings to the park or pick up after day care. It is so easy to do a quick spray of the hands and toys after play. I love it as it is non toxic unlike the popular brands available in the market. CNN wrote an article on how hand sanitizers are not only toxic but can also affect the immune system.
Another article states how Triclosan, an ingredient found in hand sanitizers and anti bacterials soaps and many cosmetics can disrupt the endocrine functioning and may also cause breast cancer. For all these reason, please please do read labels before buying any product.
This is the main reason I choose YL products for my family as they are clean and completely non toxic.