Spring Cleaning in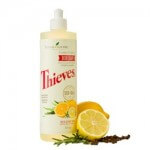 the Kitchen and Bathroom
‍ Thieves Dish Soap and Thieves Dishwashing Detergent 
‍
Thieves Dish soap -It is very concentrated, so I tend to dilute it half with water. I will hop on live sometime today to show you what I do. But can I just say, it works really well.
Have you ever wondered why YL household products including the dish soap, shampoos, household cleaners produce no suds..
Nerd talk
There are a couple of good reasons for no suds: 1) essential oils change the surface tension of bubbles, making them more likely to pop, and 2) most bubbles you find in liquid soaps are a byproduct of SLS or Sodium Laureth Sulphate.
SLS is a known ocular irritant, dermal irritant, can be absorbed across the skin, and may also be associated with hair loss and aquatic toxicity. Therefore YL chose to exclude it from their products.
.
So, take a tip from me: skip the bubbles. They mean nothing for the cleansing power of the pr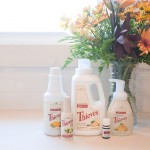 oduct.
Dishwasher Detergent – Honestly, it is going to require some getting used to. You have to scrub the dishes a little bit before putting it in the dishwasher. My hubs is not happy with it. But I refuse to compromise on residue, so we continue to bicker about it. I just take the extra time to scrub it and after I played with it a bit, it is much better