Crowd Spray
7 Drops Thyme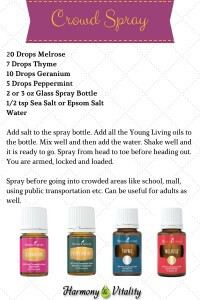 10 Drops Geranium
5 Drops Peppermint
20 Drops Melrose
2 or 3 oz Glass Spray Bottle
1/2 tsp Sea Salt or Epsom Salt
Water
Add salt to the spray bottle. Add all the Young Living oils to the bottle. Mix well and then add the water. Shake well and it is ready to go. Spray from head to toe before heading out into crowded areas like school, mall, public transportation etc. You are armed, locked, loaded ready to go.
Immune Booster Roll On
1o Drops Th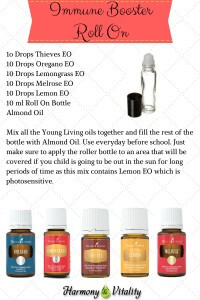 ieves EO
10 Drops Oregano EO
10 Drops Lemongrass EO
10 Drops Melrose EO
10 Drops Lemon EO
10 ml Roll On Bottle
Almond Oil
Mix all the Young Living oils together and fill the rest of the bottle with Almond Oil. Use everyday before school. Just make sure to apply the roller bottle to an area that will be covered if you child is going to be out in the sun for long periods of time as this mix contains Lemon EO.
Room Spray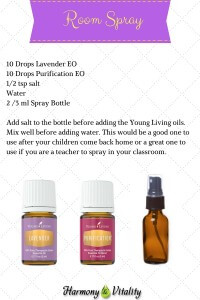 10 Drops Lavender EO
10 Drops Purification EO
1/2 tsp salt
Water
2 /3 ml Spray Bottle
Add salt to the bottle before adding the Young Living oils. Mix well before adding water. This would be a good one to use after your children come back home or a great one to use if you are a teacher to spray in your classroom.
I cannot take credit for any of these recipes. These are some of the popular ones with Young Living users.