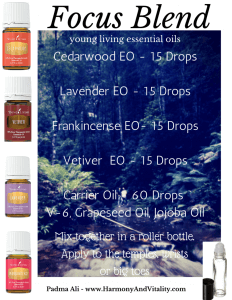 Recently, I have been getting many requests from mamas inquiring about oils that can help school age children with focus and calming. So, I thought of writing something about it. Essential Oils are a source of viable support to the human body, mind and spirit. It does this by restoring natural function  without adverse side effects. It corrects and restores proper cellular memory and can be emotionally balancing.
Of course, this in combination with clean food and environment will be the ideal set up for restoring natural balance in the system. So, definitely look at gut health and diet while also using the oils to support the child.
Here are a few essential oils recipes for Focus and Calming
Focus Blend: Cedarwood, Lavender, Vetiver and Frankincense
Cedarwood EO – 15 drops
Lavender EO – 15 drops
Vetiver- 15 drops
Frankincense – 15 drops
Carrier Oil – 60 drops ( V-6, Olive Oil, Grapeseed Oil)
Roller Bottle – 1
Mix all in the roller bottle and apply on the temples, brain stem or big toe once a day or as needed. You can also diffuse this blend – just reduce the quantity to 2 drops each.
Other Diffuser Options: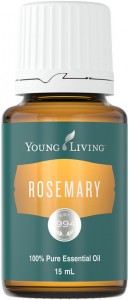 Rosemary EO – 3 Drops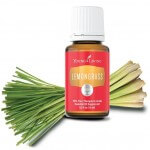 Lemongrass – 3 Drops
Calming Blends: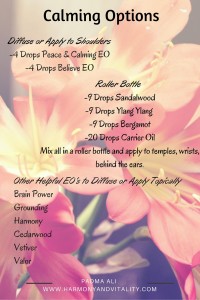 You can apply these oils to your temples, wrists, behind the ears or the big toe. These oils are mild enough to apply directly with or without dilution.
So, in summary, here are some ways of using all the oils that I have listed above…
Cedarwood, Vetiver and Lavender on the back of the neck, Brain Power on the temples and Peace & Calming at night
Valor on the big toe, on the temples especially during test days.
Focus Roller on the temples and back of the neck during the day. Lavender of Peace & Calming diffused at night.
Diffusing Lemon and Peppermint for focus.
Lavender, Vetiver and Cedarwood on the big toe.
As always, just a reminder that these are only my opinions and the only Essential Oils company that I trust enough to use on me and my precious family is Young Living.