So, Fall is here and Winter is fast approaching. In our household, that means time to make sure that our check list of Immune Boosters are checked off when the time comes to use them. So, here are some of the things that I keep handy at all times.
Elderberry Syrup : It is known for its immune boosting properties. I like to make my own using this recipe but if you don't have time or are not inclined to make it, you can buy it from Gaia Herbs.
Fire Cider: I first heard of this from my midwife friend Kara Schamel. She offered it to me once and I loved it. So, I started making my own following this recipe. Though, I do modify it a little as I can't tolerate jalapenos. Instead, I add lots of peppercorns. I made the current batch that I am using in the beginning of Spring this year. Now, I have it all wonderfully infused.
Vit D: Most people are deficient in Vit D. For my family, I make sure that we get our dose of Vit D everyday especially in the winter months. I like Natural Health Vit D Drops. And I also like Biotics Research. (I don't make any profit by linking it to Amazon, these are just brands that I have used and liked)
Essential Oils: There are a number of EO that help with boosting the immune system but there are a few that are my go to. I make an Immune Boosting Roll on using Thieves EO, Purification EO and Lemon EO. I just add 10 drops of each with 20 drops of sweet almond oil in a glass roll on bottle. It is totally portable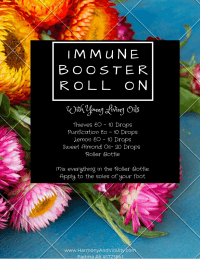 5. Chiropractic Work: People usually think of Chiropractic work only for muscular skeletal related issues. The low impact of Axial Stability Method is a wonderful way to support the body's natural ability to heal. I often visit my chiropractor when I am starting to come down with something and it nips it in the bud.
6. Vit C: Good quality Vit C can be highly beneficial in the winter months to boost immunity. I like the company Pure Synergy. Again, I don't paid for sharing these products, I just want to have some leads for anyone reading this blog.
7. Rest and Water:  Rest and drinking water can help anyone recover. Never underestimate the power of rest. I often do some visualization of complete health and wellbeing and send gratitude to my body for functioning so efficiently. I feel that when someone falls sick, it is the body and mind's way of saying slow down.
So, equip your home with these supportive items and be at peace during the winter months.